Our Team
VETS
Chris Darke Director & Veterinary Surgeon BA VetMB PgC(SADI) MRCVS
Chris qualified from Cambridge University in 1995. Chris began working at Brookfield in 2004, became a partner in 2005 and now co-owns the practice with his wife Victoria. Chris is an Advanced General Practitioner with a Certificate in Diagnostic Imaging which includes ultrasonography & radiology (x-rays). He also offers in depth consultations for dermatology and canine behaviour. Chris spends a lot of time managing the day to day running of the practice. You may also spot Chris running when he's out training for a marathon or two !
Victoria Darke Director & Veterinary Surgeon BVetMed PgC SADOS MRCVS
Victoria is Herefordshire born & bred and qualified from Royal Veterinary College London in 1996. Her Brookfield story began in 2004 and she now co-owns the practice with her husband Chris. Victoria enjoys surgery. She also has a particular interest in veterinary dentistry. In 2015 she introduced digital dental radiography and has taken our dental care to new heights. In 2020 she undertook her certificate in dentistry passing the in 2021. Then in 2022 she undertook the Advanced Veterinary Practitioner studies also passing these.
As well as four sons at home, Chris and Victoria have a ginger cat Hugo, plus two Labradors Derek & Woody that they individually rescued in 2013.
Charles Brice BVM BVS MRCVS
Charles has been working with Brookfield Vets since he qualified, starting with us in August 2016. Charles now shares his time between both our branches, tending to spend one day a week in Ledbury and the rest of his time in Hereford. In his time off Charles enjoys renovating his first home in the centre of Hereford, and walks with Dora, his Norfolk love!
Fran Brice BVM BVS MRCVS
Fran graduated from Vet School at the University of Nottingham in 2016, she joined the Brookie family in 2020 following maternity leave, joining her husband Charles. Fran works part time and particularly enjoys soft tissue surgery, ophthalmology and spending time with clients.
Outside of work, Fran is kept busy by their two young sons and two Norfolk Terriers Dora & Pippa. She enjoys running, dog walks and baking.
Daisy Newey BVM&S CertAVP MRCVS
Daisy joined the Brookie team early in 2021, and splits her 3 days between the two branches. Having qualified from Edinburgh in 2001 she has worked in a number of practices in Warwickshire, Worcestershire and Northumberland. She enjoys all aspects of small animal practice but has a special interest in small animal surgery and has attained her Advanced Veterinary Practitioner Certificate . She is also a Veterinary Acupuncturist.
Outside work is kept busy with 3 children & 2 Labradors - these curtail her love of travelling (as did COVID of course).
Lauren Strevens BVSc MRCVS
Lauren graduated from Bristol in 2022. She has since started at Brookfield and is looking forward to putting five years of uni effort into practice.
Outside of work she enjoys going to the gym, playing netball and entertaining a once feral kitten Joe.
---
PRACTICE MANAGER
Lucy Soanes
Lucy was an experienced receptionist who always had a smile on her face. We were very pleased to be able to appoint her as Practice Manager in 2016. She has contributed to many of Brookfield's achievements, including becoming a Cat Friendly Practice and setting up a branch in Ledbury. This year she completed a qualification in Leadership and Management.
Lucy has a soft spot for cats which sees her having two of her own – Esme and Phoebe. Lucy obtained Phoebe when she was brought into Brookfield as a stray kitten involved in an RTA, she made a full recovery and now rules the roost.
---
HEAD NURSE
Lottie Bradley CertVN ECC , NCert (AnBeh) , RVN
Lottie joined Brookfield in 2010 and started her Veterinary Nurse training while going to Abbeydale Vetlink College one day a week. Lottie qualified as a Registered Veterinary Nurse in 2013 and since then has had a keen interest in emergency nursing and critical care, she was awarded her Nursing Certificate in Emergency and Critical Care in March 2018. As well as getting stuck in with emergencies you will find Lottie spending a lot of her time organising and running Puppy School and currently studying for the Nursing Certificate in Animal Behaviour. Lottie was appointed Head Nurse in 2016 which involves working closely with the Vets and Nurses to help give our patients the best possible care during their stay.
Not one to sit still, she completed her Certificate in Animal Behaviour in Jan 2020.
---
LEDBURY TEAM
BRANCH MANAGER
Tracy Haines RVN EVN Clinical Coach
Tracy started her veterinary nursing career within a mixed practice in Hertfordshire qualifying as a RVN in 1997. She subsequently went on to train and qualify as a clinical coach in 2000. Tracy spent 12 years within small animal and mixed practice before moving to Newmarket to embark on her equine nurse training where she qualified from Hartpury in 2006. Tracy and her husband Colin then moved back to Colin's home county where Tracy took up an EVN post at a local equine referral hospital moving into a senior position.
She joined our Ledbury branch in 2019 and spreads her role across nursing, reception & administrative duties. In 2021 she took on the role of Branch Manager which will include overseeing the move to our new premises. Exciting times!
During her spare time she loves to ride and one day event her pony Little Blue Paint Works with support of her husband and Banjo their border terrier. They also love to walk the Malvern Hills.
NURSES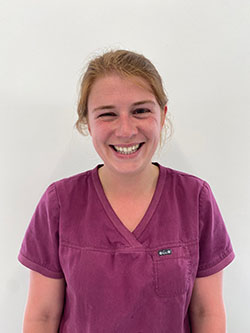 Nikki Cameron RVN (on maternity leave)
Nikki qualified as a Veterinary Nurse in 2018 from Abbeydale Veterinary College after studying for her Veterinary Nurse Diploma for 2 years at Brookfield. Since qualifying Nikki has started doing nurse consultations, she enjoys weight clinics and meeting new puppies and kittens.
Nikki has recently completed a dental oral care course aswell as her ISFM Cat Friendly Nurse Course. She moved across to become an extra member of the expanding Ledbury team in December 2020
Nikki has two dogs of her own, Shadow, a working sprocker spaniel and Roo a fox red Labrador. In her spare time, Nikki enjoys going to agility with Roo and walking the dogs.
Jessica Heath RVN
Jessica qualified as a Registered Veterinary Nurse in 2021 after completing her Veterinary Nursing degree at Hartpury University
Jess' passion for animals started at a very young age after growing up on her grandads dairy farm - she enjoys looking after all animals big and small, including her parents flock of sheep & two highland cows.
Jess enjoys spending her free time walking her black Labrador, Monty and occasionally riding horses.
Sophie Harding RVN
Sophie joined Brookfield in 2023 volunteering at the Ledbury branch in her final year of Uni. She qualified as an RVN at the end of June after completing her Veterinary Nursing degree at Hartpury University.
Sophie completed her placement year during COVID so is excited to get back into 'normal' practice. She has a keen interest in cats, dentals and in-patient care, with plans to complete some further training and certificates in these areas.
Outside of work, Sophie enjoys reading, embroidery and walking in the countryside. She is hoping to get a spaniel very soon to accompany her on these walks!
Katie Hodges RVN (on maternity leave)
Katie began her veterinary nursing journey with a Saturday Job at a local practice whilst still at school. She then went on to complete a National Diploma in Animal Management at Hartpury college in 2008.
She returned to veterinary in a local practice in 2011 where She undertook her veterinary nurse training with release to Abbeydale Veterinary College finishing in 2017. Katie enjoys all aspects of nursing and the variety it entails.
In her spare time she's a mum to Jack and we're very lucky she has a big interest in baking. She also enjoys walking and cycling around our beautiful countryside and helping on her brother's farm with their Hereford cattle and various breeds of sheep.
Katrina Davis RVN
Katrina has worked in veterinary practice for 20 years , qualifying as an RVN in 2007. She enjoys all aspects of working with your pets but with a special interest in our feline friends. This includes tending for the needs of her super senior ginger cat, Tigger.
Another string to her bow is being a clinical coach - which enables her to support the next generation of nurses through their training. She has taken this further and is also an "Internal Quality Assurer" and an OSCE examiner ( those slightly daunting practical exams).
Outside of work she also finds time to stay fit at the gym and go running and walking.
Hayley Scrivens - 'Student Veterinary Nurse'
Hayley began her journey to become a vet nurse at 15 with a Saturday receptionist job at a local vet practice. After secondary school she attended Hartpury College and studied Level 3 Extended Diploma in Animal Management. After two years of studying Veterinary Nursing at Bristol University she decided the university route was not for her. Brookie was lucky enough to have her join the Ledbury the team in summer of 2022 to continue vet nurse training through the apprenticeship route.
She loves to ride and look after her horse, plus care for her small flock of sheep. Her newest hobby is agility training with her crazy 1 year old collie, Maggie.
RECEPTIONIST & AUXILIARY NURSE
Tracey Davies
Tracey completed her Animal Care Level 1 & 2 at Holme Lacy College In 1996, alongside a placement at Brookfield for 6 months doing voluntary work. Shortly afterwards she was employed at The Argus Veterinary Surgery in Ledbury, where she worked for the next 19 years!
Tracey has an 11 yr old border collie called Kodi and a gorgeous new rescue cat, Charlie.
When Brookfield took over the Argus Veterinary Surgery in Nov 2016, Tracey continued her role as veterinary nursing assistant and is based at our Ledbury branch.
Tracey completed her Level 2 Certificate in Anaesthesia in 2017, and more recently her ISFM Cat Friendly Handling course, Cat Friendly Receptionist Certificate and BVRA receptionist award levels; Bronze and Silver. She is currently working towards her BVRA Gold award to become a registered veterinary receptionist!
Tara Doughty
Tara started her animal care journey with a diploma at Hartpury after leaving school. She then completed her first year of VN diploma at Abbeydale college. Tara has since managed agriculture retail stores, including being an agri specialist in a local feed store. Plus Tara breeds (and hopefully shows) her flock of pedigree texel sheep alongside son Oliver, who keeps her busy as well as springer spaniel Ruby, who enjoys a good run around up on The Malvern's.
Rebekah Kerr
Bek feels she has been part of the Brookie family for 18 years, with their previous family dog Bella and now Jana her GSD and Isla their cocker.
She started working as a receptionist in Ledbury in November 2023, having worked in a similar role in Worcestershire.
Having completed a sports degree, Bek travelled around Australia and then tested a few careers before finding her dream veterinary role.
Outside of work, Beks' passion is football, playing for a local club and supporting Arsenal and the Lionesses whenever she can. She also enjoys long walks with Jana on a weekend.
Now with Brookie a daily part of her life, she's looking forward to getting involved with the BVRA training and learning lots of new skills.