Introducing Our Practice Team
VETS
Chris Darke Director & Veterinary Surgeon BA VetMB PgC(SADI) MRCVS
Chris qualified from Cambridge University in 1995. Chris began working at Brookfield in 2004, became a partner in 2005 and now co-owns the practice with his wife Victoria. Chris is an Advanced General Practitioner with a Certificate in Diagnostic Imaging which includes ultrasonography & radiology (x-rays). He also offers in depth consultations for dermatology and canine behaviour. Chris spends a lot of time managing the day to day running of the practice. You may also spot Chris running when he's out training for a marathon or two !
Victoria Darke Director & Veterinary Surgeon BVetMed PgC SADOS MRCVS
Victoria is Herefordshire born & bred and qualified from Royal Veterinary College London in 1996. Her Brookfield story began in 2004 and she now co-owns the practice with her husband Chris. Victoria enjoys surgery. She also has a particular interest in veterinary dentistry. In 2015 she introduced digital dental radiography and has taken our dental care to new heights. In 2020 she undertook her certificate in dentistry passing the in 2021. Then in 2022 she undertook the Advanced Veterinary Practitioner studies also passing these.
As well as four sons at home, Chris and Victoria have a ginger cat Hugo, plus two Labradors Derek & Woody that they individually rescued in 2013.
Charles Brice BVM BVS MRCVS
Charles has been working with Brookfield Vets since he qualified, starting with us in August 2016. Charles now shares his time between both our branches, tending to spend one day a week in Ledbury and the rest of his time in Hereford. In his time off Charles enjoys renovating his first home in the centre of Hereford, and walks with Dora, his Norfolk love!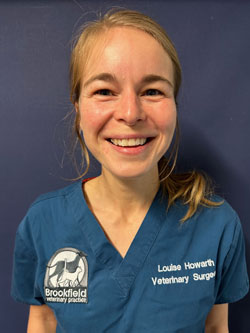 Louise Howarth BVetMed CertAVP MRCVS
Louise worked at Brookfield for nearly 4 years, she then moved away and had a daughter. 2017 she moved back to Hereford, and rejoined her Brookie family.
She works part time and loves looking after the patients and spending time with clients. Her particular interest lies in medicine, she has achieved her status as an advanced veterinary practitioner and has exams to take to finalise her Certificate in Smal Animal Medicine. Louise has a blind Ginger cat at home called "Mole" who was found as a stray kitten 7 years ago. In her spare time her enjoys playing Netball and spending time with her friends and family.
Kelly Manning BVSc PgC(SAM) MRCVS
Kelly joined the Brookie team in January 2018, a fantastic addition with her certificate in medicine. She qualified from Liverpool university in 2010 and has worked in small animal practice ever since. She particular enjoys medicine cases and surgery.
She is kept very busy with 3 children, 3 dogs, 1 cat and 4 Guinea pigs at home, but when she does find some time she enjoys dog walks, netball and meeting up with friends.
Fran Brice BVM BVS MRCVS
Fran graduated from Vet School at the University of Nottingham in 2016, she joined the Brookie family in 2020 following maternity leave, joining her husband Charles. Fran works part time and particularly enjoys soft tissue surgery, ophthalmology and spending time with clients.
Outside of work, Fran is kept busy by their two young sons and two Norfolk Terriers Dora & Pippa. She enjoys running, dog walks and baking.
Natalie Cooper BVSc MRCVS
Natalie graduated from Bristol in 2015 and started her career up in Yorkshire. She then volunteered in the amazon, helping to care for wild animals including Vanesso the ocelot and Juancho the jaguar. She has a soft spot for cats, having grown up with them throughout all her childhood. She returned to the UK, working in practices from Gloucestershire to Lincolnshire. She then helped out with the country's COVID-19 response before joining the Brookfield team in May 2021.
In her spare time she likes exploring new places and has an interest in photography. She especially enjoys dancing and can sometimes be found singing in her kitchen.
Daisy Newey BVM&S CertAVP MRCVS
Daisy joined the Brookie team early in 2021, and splits her 3 days between the two branches. Having qualified from Edinburgh in 2001 she has worked in a number of practices in Warwickshire, Worcestershire and Northumberland. She enjoys all aspects of small animal practice but has a special interest in small animal surgery and has attained her Advanced Veterinary Practitioner Certificate . She is also a Veterinary Acupuncturist.
Outside work is kept busy with 3 children & 2 Labradors - these curtail her love of travelling (as did COVID of course).
Lauren Strevens BVSc MRCVS
Lauren graduated from Bristol in 2022. She has since started at Brookfield and is looking forward to putting five years of uni effort into practice.
Outside of work she enjoys going to the gym, playing netball and entertaining a once feral kitten Joe.
---
PRACTICE MANAGER
Lucy Soanes
Lucy was an experienced receptionist who always had a smile on her face. We were very pleased to be able to appoint her as Practice Manager in 2016. She has contributed to many of Brookfield's achievements, including becoming a Cat Friendly Practice and setting up a branch in Ledbury. This year she completed a qualification in Leadership and Management.
Lucy has a soft spot for cats which sees her having two of her own – Esme and Phoebe. Lucy obtained Phoebe when she was brought into Brookfield as a stray kitten involved in an RTA, she made a full recovery and now rules the roost.
---
HEAD NURSE
Lottie Bradley CertVN ECC , NCert (AnBeh) , RVN
Lottie joined Brookfield in 2010 and started her Veterinary Nurse training while going to Abbeydale Vetlink College one day a week. Lottie qualified as a Registered Veterinary Nurse in 2013 and since then has had a keen interest in emergency nursing and critical care, she was awarded her Nursing Certificate in Emergency and Critical Care in March 2018. As well as getting stuck in with emergencies you will find Lottie spending a lot of her time organising and running Puppy School and currently studying for the Nursing Certificate in Animal Behaviour. Lottie was appointed Head Nurse in 2016 which involves working closely with the Vets and Nurses to help give our patients the best possible care during their stay.
Not one to sit still, she completed her Certificate in Animal Behaviour in Jan 2020.
---
HEREFORD TEAM
NURSES
Trish Helme RVN NCert (AnBeh), MT (Master Trainer), CCFT (Certified Canine Fitness Trainer), CCAS (Certified Canine Athlete Specialist)
Trish undertook her Veterinary Nurse training at Brookfield starting 3rd April 1994 qualifying a couple of years later.
In June 2016 she was awarded her Nursing Certificate in Animal Behaviour. And then went on to get her training qualifications. Trish is definitely an all rounder, using her years of experience in every area of the practice. Trish used to be a member of "Paws for Thought" dog display team but now co runs the Awesome Paws Performance and Fitness dog training school when not at Brookfield and so can always offer some useful advice on dog training. Trish owns a family of miniature Schnauzers and has recently added Halo who is a puppy from her litter with Epic and are both working cocker spaniels.
Natalie Holder CertVN ECC, RVN (on maternity leave)
Natalie completed her training here at Brookfield & qualified in 2008! She left for 2 years and worked in emergency clinics and various locum positions across the country to gain lots of experience and an extra qualification in emergency and critical care. She returned to Brookfield in 2011 and after a couple of maternity leave stints now works part time!
Living with Natalie are; Harry the golden retriever, Mabel a working cocker spaniel, Edward and Peggy the cats, Boris and Doris the rabbits plus her two small humans, Jack and Hattie!
Nat loves every single part of veterinary nursing but if had to choose one favourite it would be nursing the geriatric dog. Her other penchant is taking any waifs and strays home.
Nat has also completed her coape advanced canine nursing and behaviour certificate and an IMDTB L4 certificate in consultations, foundations and functions of behaviour and also runs obedience and puppy training at Awesome Paws Performance.
Alicia Richards Cert AMN (dentistry) RVN
Alicia joined the Brookfield team in Hereford in September 2020 having qualified as an RVN in 2015. Dentistry soon became a love of hers once at Brookfield and she continued her training in this area, starting her "Certificate Advanced Veterinary Nursing (Dentistry)" in September 21. Exams are summer 2022!!
She has 3 children who all share her love of animals. They share two fur babies;an adopted kitten called pip whom they reared from 2 weeks old, a Syrian hamster called marshmallow and a scaled baby called Devon the bearded dragon!
As well as an intense love of football (most importantly Wolverhampton wanderers) Alicia spends a lot of her time in amongst the books furthering her cpd/knowledge to help our lovely patients.
George Furber RVN
George joined Brookie in 2005 helping at weekends and evenings whilst sitting A-levels.
Having being bitten by the vetbug she increased to fulltime for her nursing training and qualifying in 2009. George then spread her wings to go travelling, which included working as a nurse in London for a year and then New Zealand (!) for 6.
The homebird eventually flew back to the UK a few years ago and tied the knot and started a family- now two little girls to add to the fourlegged family.
13 years down the track, her experience, flexibility and warm caring nature makes her the perfect fit to help in busy evening surgeries: George describes the role as "a bit like centre on a netball court, you'll find me doing a bit of everything of an evening".
Ginene Bufton - RVN
Ginene joined us in 2021 when she moved back to her home county after starting her training in the South East. Ginene is due to sit her OSCE's late.
We loved celebrating with her when she passed her OSCE's in July 22.
She has an interest in medicine, physiotherapy and hydrotherapy, and now qualified she hopes to gain further knowledge and experience. She is also responsible for maintaining our portfolio for our Gold Feline Friendly status.
Outside of work she likes spend her time walking with her 2 Spaniels and 1 Labrador, as well as playing netball.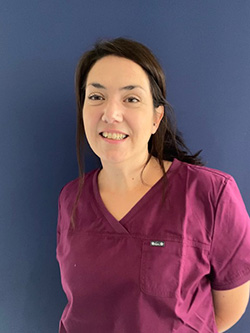 Rachel Ford RVN
Rachel rejoins the Hereford nursing team in September 2022. Having left to try out a non-nursing job she missed it too much and we are glad to welcome her back to the fold.
Having qualified as a nurse back in 2010 her favourite place to be is, client facing, in the consulting room.
Abi Smith RV
Abi joined the Brookfield team when she returned home to Hereford in summer 2023, having trained in the West Midlands
TRAINEES
Lindsey Benjamin - SVN
Lindsey joined us as maternity cover for reception during our pregnancy outbreak in 2019. Her enthusiasm, positivity and determination to provide a friendly, helpful professional service means she has become a central member of the Brookie team. Through floods, COVID and a leg break at our team outing she has smiled her way through (we have photographic evidence !) In January 2021 she was very excited to swap blue for green and white stripes and become our new student nurse
At home she enjoys walking the beautiful ways of Herefordshire with the two and four legged members of her family.
James Norman - 'Student Veterinary Nurse'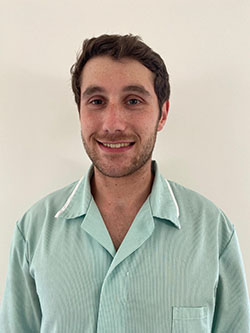 James joined Brookfield in September 2020 to aid the vets during consults while owners are socially distancing outside the consult rooms. In May 2021 he moved to be an additional colleague in the Ledbury team. March 2022 saw him start his Student Vet Nurse career enrolling at Abbeydale Vetlink so now he's in green & white stripes
Fliss Harrison - Auxiliary Vet Nurse
Fliss started at our ledbury branch in 2021 as a Saturday receptionist, before transferring to Hereford in September 2022 to start her journey to becoming a vet nurse. In her spare time, Fliss enjoys playing tennis, horseriding, and of course, long walks with her dog, Bonnie.
RECEPTIONISTS
Madeleine Nedoma - Head Receptionist
Maddy joined the team in March 2018, fitting in so well with her bubbly personality. She has always worked within the pet industry, but her love for animals brought her to Brookfield where should could work closer with our four legged friends.
Maddy has completed her 'Cat Handling Course' which helped contribute to our achievement of becoming a Gold Cat Friendly Practice. She is also working towards her Gold Award within the British Veterinary Receptionist Association, as well as her SQP qualification, which will make her a registered animal medicines advisor.
Maddy was made head receptionist in July 2021 , due to her unerring dedication to client service & forward thinking approach to always improve what we do.
At home, Maddy is kept busy with her 5 dogs; Bean, Bruce, Jess, Nelly & Wilf. She enjoys taking them all out on a woodland walk amongst the Forest of Dean, along with her husband, Duncan, daughter, Lexi and son, Angus.
Tracey Turner
Tracey started working at Brookfield Vets in September 2020 having previously worked as a receptionist in two other veterinary practices in Herefordshire and Gloucestershire.
She has had an eclectic career spanning insurance, housing, community, and support work. A large garden, a small flock of chickens, and the demands of two dogs, Betty and Todd, keeps Tracey busy. She enjoys learning new things and has completed a degree in Community Development and courses including, Canine Behaviour and Socialisation, Canine First-Aid, Tellington T-Touch, a Diploma in Dog Grooming, the BVRA Bronze Receptionist Award, Bereavement and End-of-Life Support, Dental Care award and is part way through a Diploma in Canine Behaviour. She has a keen interest in sustainability and now heads up our Hereford Green Group, aiming to inspire us all into greener ways!
Lily Morris
Lily joined the team September 2021 and was inspired to join the Brookie Crew by her sister Lottie, our Head Nurse. Lily has 2 miniature dachshund Bert & Ernie who keep her busy outside of work.
Melissa Bacon
Melissa had been part of the Brookfield family for the past 11 years with their family dog Lola. Melissa had always dreamed of working in a veterinary practice and when the position came up in February 2022 she had to apply. Imagine her delight when offered the position! When asked to write her website bio she told us "I'm grateful to work with such an amazing team and allowing me to expand my knowledge within animal health." She started out completing her IFSM Feline Friendly training, petplan insurance advisor training, Bronze Level BVRA Accredited Veterinary Receptionist Award and can't wait to progress further; so Silver award is next on the plan. When not at the practice she thoroughly enjoys renovating her home and days out with her family.
Mary Francis
Mary began working at Brookfield in 1993 as receptionist at the same time as Alison. Mary left us for a short while, but has now come back behind the reception desk, so many of our older clients will see a familiar face. Mary owns two little dogs Beazy and Molly.